Cliquez ici pour le version Francais
Debra and Graham would like to welcome you to Le Queyroix-Martin, the home they have created from a group of converted barns set in the heart of the Monts de Blond in rural Haute-Vienne.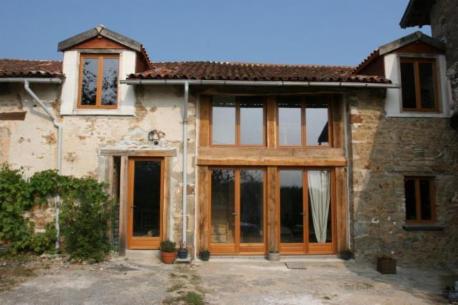 Le Queyroix-Martin is a haven of peace and quiet where you can breathe the fresh air, listen to the birds singing and relax and re-charge your batteries. The chambre d'hôtes (bed and breakfast) offers five double bedrooms, all en suite, that have been lovingly created from the apple and livestock barns originally built in 1883. Evening meals (table d'hôtes) are enjoyed either in the dining room with many original features or, weather permitting, outside on the terrace overlooking the garden. Surrounded by forests of chestnut and oak, Le Queyroix-Martin is set in four acres of grounds, including the original apple orchard. Guests are free to wander and explore, find a comfortable spot to read a book, or just relax soaking up the atmosphere whilst enjoying the views across the valley and maybe watching one of the roe deer that often graze amongst the trees.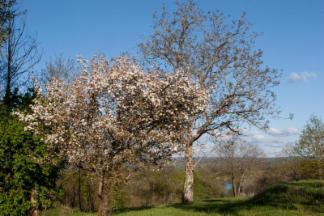 The area is a paradise for walkers and cyclists (both on- and off-road); with more than 100 km of tracks being directly accessible from the house and also numerous small lanes with very little traffic making cycling on them a pleasure. Further afield there are plenty of towns and villages to explore; many having a weekly or fortnightly market. The lake at nearby Lac St Pardoux offers the opportunity for freshwater swimming and other water sports. If you are looking for a touch of culture then Limoges is only 30 minutes away with many museums, historic buildings, art galleries and the world renowned porcelain manufacturers. The historic martyr village and memorial centre of Oradour-sur-Glane is twenty minutes away by car.
Getting here is easy with regular flights from several UK airports to Limoges Bellegarde which is only a short (20 minute) drive from Le Queyroix-Martin. Several other airports (Poitiers, Tours, Bergerac and Bordeaux) are within a three hour drive. Ryanair are also opening a new route in 2014 flying to Brive which is an easy 1 hour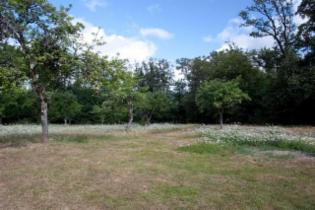 drive away. Alternatively, if you wish to travel by train, Limoges is served by TGVs from Paris Gare Austerlitz (easily reached from Eurostar, Gare du Nord) and the Limoges station (Gare Bénédictine) is worth a visit for its spectacular architecture even if you are not travelling by train. If you are travelling by car then we are about 8 hours from Calais with a choice of routes so that you can avoid Paris if you don't fancy experiencing the infamous périphérique.


Whatever your reason for visiting; perhaps to break a longer journey, experience an action-packed holiday, enjoy a relaxing weekend or a search for your dream house in the area, Le Queyroix-Martin offers a warm and friendly welcome and we look forward to meeting you.